Are your employees ready for retirement? According to an Edward Jones and Age Wave survey1, The Four Pillars of the New Retirement, the answer is 'not likely.'
And that's because retirement is changing quickly – often so quickly that retirement plans aren't able to keep up.
What's behind the change in retirement?
Longevity: In 1900, life expectancy was just 47 years. By 2050, that number will be 852. To have enough money to last through retirement, your employees need to save more than ever before.
More people 65+: The number of people reaching retirement age will more than double from 35 million in 2000 to 86 million in 20503.
Lack of preparation: Despite the large number of employees headed for retirement, many people are not preparing adequately. For employees currently 45 to 54, 42% have not begun saving for retirement4.
Added to this is COVID, which has intensified the lack of preparation.
The Disconnect
Many surveys show that your employees are aware that they will live longer. They are also aware that they will need more money. But the Four Pillars report noted that what retirees find to be most important is not what pre-retirees spend much time thinking about.
When asked about finances, 93% of retirees say that saving enough to last through retirement is important. Unfortunately, only 37% of pre-retirees give it much thought.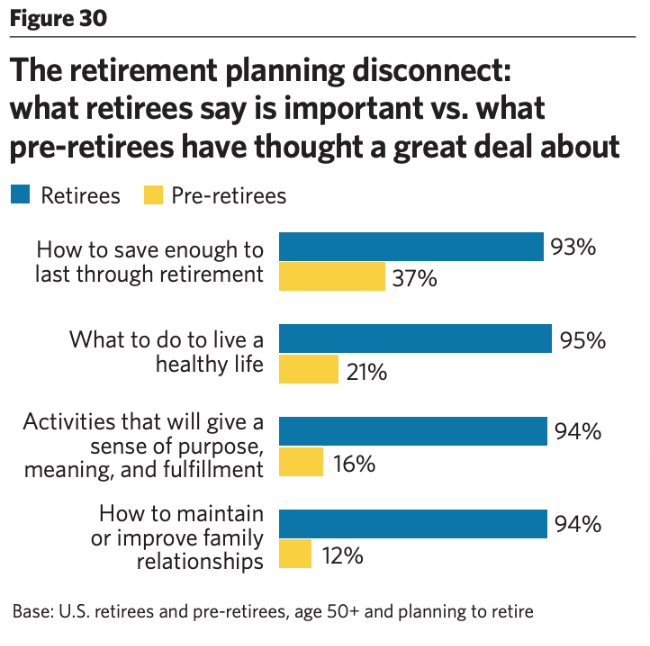 Source: The Four Pillars US Report 20211
When this lack of preparation is added to the strain of COVID on retirement savings, it is no wonder the report found that one out of three Americans plan to delay retirement.
By the end of 2020, twenty-two million Americans had stopped making retirement contributions entirely. Although this number is dropping, at the time of the survey, 14 million had yet to start saving again.
The Effect on Businesses
Even before COVID, many pre-retirees didn't feel they would retire on time.
The Insured Retirement Institute5 found that one in five Americans over 65 were still working and of those nearing retirement, 60% planned to work past age 65.
The costs to businesses of delayed retirement are substantial.
Prudential6 found that a one-year delay cost employers between 1.0% and 1.5% of annual workforce costs. This averages out to about $50,000 per individual.
To help employers understand the cost, Prudential created a chart comparing delayed retirement to other costs associated with having employees.

Source: Prudential6
A Principal Retirement Security Survey6 found that the cause of delayed retirement often came down to poor retirement planning habits. Employees were not:
Meeting with professionals
Reviewing Social Security benefits
Creating a retirement plan
Understanding the different funding sources for retirement
Accurately estimating the money they need to retire

Helping Employees Get Back on Track
Thankfully, there are things a director of retirement can do to help get employees back on track. Here are 10 to consider:
Improve your company's contribution matching rate: Offering a company match boosts enrollment by 3-10%7.
Increase the match cap: Employees tend to treat match caps as a saving recommendation. Studies have found that higher match caps correspond to higher savings rates7.
Auto-enroll employees: Employees working for companies with auto-enrollment saved 50% more for retirement in 20208.
Establish an auto-increase: This increases employee savings rates automatically each year. Employees with this option save 20 to 30% more after three years8.
Workshops: Provide basic workshops on retirement and the time value of money. Net worth increases by 20% for employees who regularly attend retirement seminars9.
Offer an employee financial wellness program: Internal data from one Enrich user found that after one year, 15% more employees contributed to the employer-sponsored retirement plan, and maximum retirement plan contributions increased by 10%10.
Month-long promotions: Choose different topics such as retirement savings, time value of money, healthcare costs during retirement, etc., to reinforce how important it is for employees to contribute more to their retirement fund.
Watch out for speed bumps: Financial speed bumps can cause an employee to consider a 401k loan or withdrawal. Before taking this action, educate employees on the hazards of removing money from their retirement accounts. A low financial literacy score raises the rate of 401(k) loans by 6%11.
Extend retirement plan eligibility to part-time workers: Offering 401(k) benefits to part-time employees provide a company with tax advantages, shows dedication to employees, and helps with recruiting and retention. Plus, it helps the 25.2 million part-time workers save for retirement12.
Offer phased-retirement: Allows those at retirement age to work part-time, earning some income, while transitioning into full retirement. This reduces the dependency on retirement funds during the transition.
To learn how Enrich can help you guide employees toward on-time retirement, read about our "Planning For Retirement" course and Retirement Analyzer Tool.
1 - https://www.edwardjones.com/sites/default/files/acquiadam/2021-06/Four-Pillars-US-Report-June-2021.pdf
2 - https://www.cdc.gov/nchs/nvss/life-expectancy.htm
3 - https://www.census.gov/library/stories/2019/12/by-2030-all-baby-boomers-will-be-age-65-or-older.html#
4 - https://www.federalreserve.gov/econres/scf/dataviz/scf/table/
5 - https://www.prudential.com/corporate-insights/employers-should-care-cost-delayed-retirements
6 - https://secure02.principal.com/publicvsupply/GetFile?fm=PQ13007A&ty=VOP&EXT=.VOP
7 - https://hbr.org/2020/10/employers-need-to-reinvent-retirement-savings-match
8 - https://www.shrm.org/resourcesandtools/hr-topics/benefits/pages/rising-401k-contribution-rates-fewer-plan-loans-show-return-to-normal.aspx
9 - https://www.oecd.org/finance/financial-education/37713585.pdf
10 - https://www.enrich.org/financial-wellness-behavior-change-data-study
11 - https://pensionresearchcouncil.wharton.upenn.edu/wp-content/uploads/2015/09/0-19-969681-9-04.pdf
12 - https://www.statista.com/statistics/192338/number-of-part-time-employees-in-the-us-since-1990