Employee financial stress is at an all-time high. A recent survey1 found that financial stress is the top stressor affecting 73% of respondents. That number is even higher among Gen Z (82%) and Millennials (81%).
In their yearly survey, PwC2 found that financial stress impacts employees physically, emotionally, mentally, and socially.
Employee financial stress affects mental health, sleep, self-esteem, physical health, and relationships at home. But the problems don't stop there.
They found that high financial stress also affects productivity at work, attendance, and engagement. Plus, financially stressed employees are twice as likely to be looking for a new job.
Based on FINRA findings3, the solution is financial literacy.
Financial stress comes about due to poor financial decisions and financial behaviors. These decisions and behaviors can be improved through financial literacy, which, in turn, will decrease financial stress.
Here are five ways that adding a financial wellness program can help employees take control of their finances and address their financial worries.
Learning How to Budget
According to a recent survey4, over half of Americans do not use a budget, with 56% having no idea what they spent in the previous month. When asked why, these respondents cited reasons ranging from not knowing how to not seeing the benefit to not making enough money to matter.
The truth is that learning how to budget and then following that budget is the first step toward reducing financial stress. Here's why:
Highlights poor money habits: As employees learn to track their money, they will be able to spot unhealthy spending and saving habits. A budget coupled with financial wellness education can then help employees make meaningful changes and reduce financial stress.
Prioritizes financial goals: It is impossible to meet a goal that hasn't been set. Budgeting helps employees look at their financial goals, determine which ones are most important, and then work toward achieving those goals.
Focuses attention: Budgeting allows employees to focus their attention on the portions of their financial situation in which they have control. For example, employees have little control over the price of gas or inflation rates, but they can decide if they will buy a latte on the way to work or simply make coffee at home. By focusing on what they can control, employees can reduce their stress.
A CFP Board study5 found that having a budget positively affects consumers. Those with a budget feel more in control, confident, and secure while feeling less stress, anxiety, and frustration.
Internal Enrich data agrees, finding that those who never use a budget have an average stress rating 10.4% higher than those who do.
Making Financial Goals a Part of Life
If you were to survey your employees, a majority would agree that saving money each month is a wise decision. They would likely also agree that saving for retirement should be a priority. However, many do not.
Surveys have shown that:
67% of Americans do not have enough emergency savings
This includes 26% who have no emergency savings6
18% did not save any money at all in 20217
1 in 4 Americans have no retirement savings8
Not only will a financial wellness program explain the benefits of saving, but it can give tips for successfully saving money. One of these tips is to add automatic features to saving.
Employees are much more likely to save money if the money is automatically contributed to each pay period. It becomes as much a part of life as paying monthly bills while reducing the likelihood to impulsively spend the money rather than add it to savings.
Internal data from one Enrich user shows that employees who used the financial wellness platform for one year increased their savings, were more likely to take advantage of employer match programs, and increased their savings balances by $1,6579.
Tackling Debt
Without a doubt, debt is a financial stressor. A recent National Debt Relief survey10 found that:
Americans lose 200 hours of sleep each year worrying about debt
Americans have three nightmares a week about their debt
Over 2/3 of those in debt withdraw from everyday activities
7 out of 10 constantly think about the debt they are in
71% feel that debt has permanently affected their mental health
Of those polled, 73% wish there were tools and resources to help them, especially when they were tackling big debt issues.
And what about those who finally get out of debt? Nearly all say it is like retaking control of their lives.
An employer-sponsored financial wellness program can help employees tackle their debt and regain control.
Enrich data shows that after using the platform for one year, 28% more employees pay off their credit cards each month.
Download Enrich's Financial Wellness Behavior Change Data: a 12-month Study
Using a program like Enrich can also provide tips on how to pay down debt, consolidate loans, and refinance loans, as well as ways to avoid future debt.
Expect the Unexpected
Life can throw unexpected things at employees, and the unexpected can be very distressing.
When this happens, research shows that negative emotions like anger and fear take over and reduce the ability to problem-solve. However, positive emotions do the opposite11.
So the goal is to help employees learn to respond to distressing issues more positively.
One way to take the sting out of the unexpected is to plan for it. That's where emergency savings come in.
Currently, two-thirds of Americans do not have enough emergency savings, so when a financial emergency arises, they have no way to make ends meet.
What does someone without emergency savings do when their main mode of transportation needs a new transmission or the breadwinner loses a job? They often turn to credit cards and other high-interest loans, only increasing the problem and the stress that goes with it.
Those that use Enrich learn about emergency savings accounts, the best way to fund them, how to determine the balance of the account, and more.
After one year of using the platform, those with at least 3 months of emergency savings increased by 27%. Plus, employees with emergency funds are far less stressed.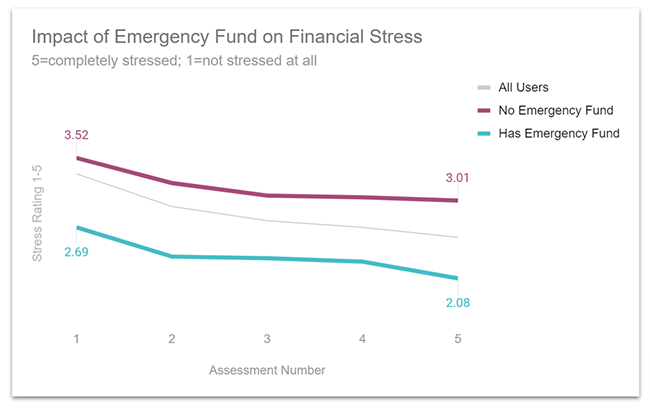 Providing Professional Help
Finally, those with financial stress want help but are reluctant to seek it. The 2022 PwC Employee Financial Wellness Survey2 discovered the following reasons why employees don't ask for help:
Personal finances should remain personal – 27%
Embarrassed about their debt – 25%
Money isn't a subject to discuss – 24%
Wouldn't know what to ask – 8%
Don't have enough money to talk about – 7%
Worried about giving up control – 6%
However, seeking professional help, such as one-on-one counseling offered through Enrich, can help employees identify solutions to financial problems, increase wealth-building activities, learn better financial habits, and more.
Employees are going to experience the stress that comes with financial problems. However, a holistic financial wellness program can help them gain control and reduce stress.
1 - https://www.prnewswire.com/news-releases/survey-reveals-tension-between-financial-stress-and-optimistic-financial-outlook-among-us-consumers-300940048.html
2 - https://www.pwc.com/us/en/services/consulting/business-transformation/library/employee-financial-wellness-survey.html
3- https://gflec.org/wp-content/uploads/2021/04/Anxiety-and-Stress-Report-GFLEC-FINRA-FINAL.pdf?x85507
4 - https://www.thepennyhoarder.com/budgeting/budgeting-statistics/
5 - https://www.cfp.net/-/media/files/cfp-board/knowledge/reports-and-research/consumer-surveys/consumer-views-on-cash-flow-planning-january-2019.pdf
6 - https://www.bankrate.com/banking/savings/financial-security-january-2022/
7 - https://www.magnifymoney.com/news/consumer-savings-index/
8 - https://transamericainstitute.org/docs/default-source/research/2021-retirement-outlook-compendium-report.pdf
9 - https://www.enrich.org/financial-wellness-behavior-change-data-study
10 - https://www.nationaldebtrelief.com/how-debt-affects-your-mental-and-physical-health/
11 - https://www.ncbi.nlm.nih.gov/pmc/articles/PMC2908186/