Employers understand that the right benefits package can engage and retain employees. In the past, putting together the right package was relatively simple. Provide some form of retirement savings fund and medical insurance, along with vacation pay and that was all that was needed.
To sweeten the pot, employers might consider adding dental and vision. However, times have changed.
Employee retention is a major challenge as employers experience the economic trend known as the Great Resignation. Also known as the Big Quit and the Great Reshuffle, this trend is one in which employees are voluntarily leaving their employment in search of a job with better conditions – from pay to location to benefits.
How big of an issue is the Big Quit? Typically, the resignation rate in the US is below 2.4%1. However, that rate is now above 3% and is costing companies thousands in recruiting and training costs.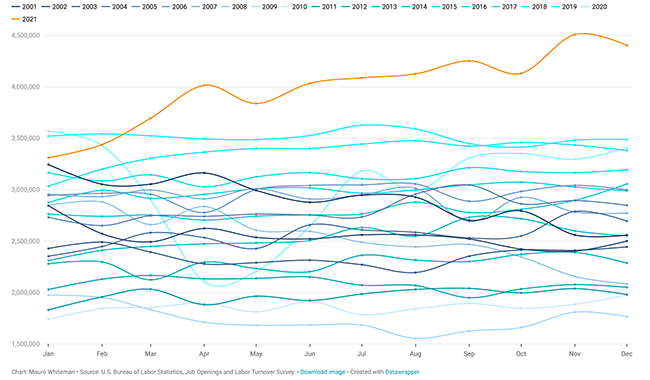 Source: the Society for Human Resource Management
Based on research, this trend is likely to continue. The 2021 Work Trend Index found that two out of five workers considered quitting their job2. The PwC survey found that number to be even higher, with 65% looking for a new job3.
A study by Corestream in conjunction with Duke University's Fuqua School of Business4 found several reasons for this exodus. They include:
Low job satisfaction
Insufficient training and development opportunities
Poor leadership
Benefits that don't meet their needs
So what can employers do to stop losing half a billion dollars each year? Consider offering voluntary benefits.
Why Voluntary Benefits?
The Duke study found that employees were more likely to stay with a company that offered a voluntary benefits package. Voluntary benefits are those that go beyond typical retirement and medical insurance. These packages include:
Accident insurance
Critical illness insurance
Pet insurance
Student loan assistance programs
Child care assistance
Financial wellness programs
According to the study, companies that provided voluntary benefits doubled their median tenure. Another study by Corestream found that nearly seven out of ten employees felt that voluntary benefits influenced their desire to stay with their current employer5.
However, employers need to carefully consider which voluntary benefits to offer when building a program.
Building a Voluntary Benefits Program
As an HR professional, you should carefully consider voluntary benefits as a way of increasing employee engagement and retention. While building the program, keep these five things in mind.
Use Data: Each employee has different needs so voluntary benefit offerings should be tailored to those needs. Consider an employee's age, gender, marital status, parental status, living situation, and more. Use the data you have on file and consider collecting additional data to help determine the best benefits to offer.
User-experience Matters: Finding, enrolling, and participating in voluntary benefits should be easy. One of the best ways to offer a seamless user experience is to go digital. This way, information about benefits is available 24/7 regardless of when or where an employee needs access. Look for simple navigation and a user-friendly platform.
Communicate Often: The best way to increase enrollment in and engagement with voluntary benefits is to communicate with employees about these benefits. This is critical both during open enrollment and throughout the year. Employees need to hear about benefits an average of seven times before they are likely to follow through with enrollment and/or engagement.
Get Leadership Buy-in: Help leaders understand the positive influence of voluntary employee benefits so they can help promote employee participation.
More is Better: 7 out of 10 employees wish their employers had more voluntary benefits6. The more benefits you can offer, the stronger employee engagement will be.
Keep Reading: 55 Best Employee Financial Wellness Benefits
Employees are looking for employers that invest in them as employees and as individuals. Offering voluntary benefits is key to showing that investment.
Learn how Enrich can support you in your effort to provide voluntary financial wellness benefits.
1 - https://web.archive.org/web/20210901230851/https://www.epi.org/indicators/jolts/
2 - https://www.microsoft.com/en-us/worklab/work-trend-index/hybrid-work
3 - https://www.pwc.com/us/en/library/pulse-survey/future-of-work.html
4 - https://corp.corestream.com/media/jfwgerqv/voluntary-benefits-impact-engagement-infographic.pdf
5 - https://www.businesswire.com/news/home/20201102005188/en/
6 - https://www.businesswire.com/news/home/20210920005321/en/Survey-3-in-4-Employees-Consider-Voluntary-Benefits-as-a-Deciding-Factor-for-Whether-They-Work-for-and-Stay-with-an-Employer